Portable Toilets, Hand Washing Stations & More in Grande Prairie & Alberta
Portable Toilets
Take full advantage of our toilet rental services for your next event, contractor project, drilling site and more. We make sure your toilet rentals are stocked and ready to go when they arrive, including toilet paper, hand sanitizer and deodorant.
Whether your need a few portable toilets or hundreds, we're equipped with over 500 units, including wheelchair accessible portable toilets.
Construction
Weddings
Drilling / Service Rigs
Trade Shows
Highway Projects
Concerts
Pipeline Projects
Oilfield Camps
And more!
All-In-One Wash Cars
For just about any event or worksite, we have wash cars of various sizes, including 24' skids and 30' trailer units. These wash car units are completely self-contained, including the septic tank, water tank, and water heating. We at Elite Vac & Steam will provide everything you need to support the washcar, from emptying, cleaning to providing fresh water.
Toilet & Garbage Combo Trailers
Our portable toilet and garbage trailer combines these two essential services into one phone call. We have heated or regular toilets, bear-proof or regular waste bins available. The components of your combination unit are entirely in your hands, and we're all about connecting the right piece of equipment with your site and job scope.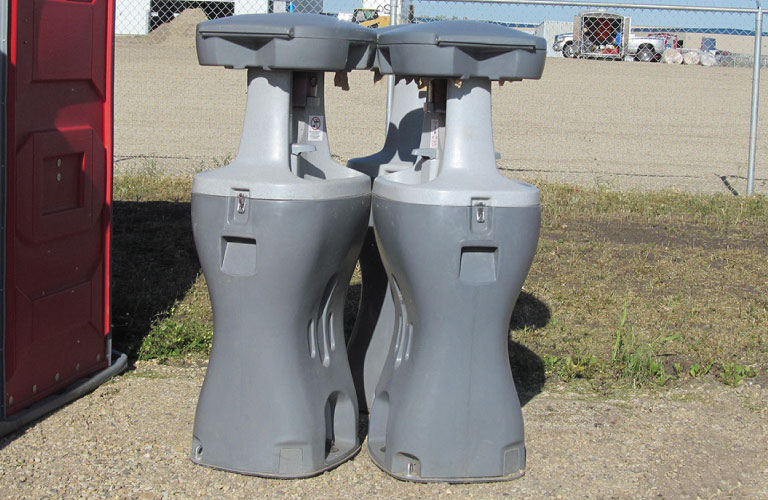 Hand Wash Stations
Our portable hand wash stations are prepared and ready to go. Call us today to rent yours!
Port-a-Kotes
If you need them, we've got them. Call us and rent yours now! Our insulated and heated units; you won't believe how comfortable a site toilet can be. We're here to make sure that your day's work is never cancelled on account of a cold seat.
Grande Prairie, Peace River and Beyond
Based in Grande Prairie, we deliver great service to the Peace Region and beyond. Call us today for your hydro vac, semi vac, combo vac, toilet rental, light tower rental, fluid hauling, boiler, septic and sump services.
Interested in Portable Sanitation Rentals?
OUR TEAM IS READY TO SERVE! CONTACT US TODAY